Nobody likes going back to work on Monday mornings. Why not make your return to the work place easier with a little comedy? Manic Mondays is a weekly comedy show designed to take the sting off your Monday mornings.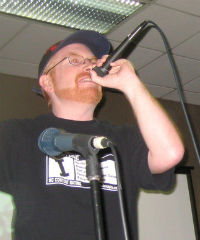 Hosted by comedy-rapper Devo Spice, each show lasts about 15 to 20 minutes on average and features funny music, a weekly segment called News Of The Stupid, and other occasional segments such as Horrible Movie Reviews, Impossible Interviews, and Story Time.
The show began in March of 2005 and ran through September of 2009 when for various personal reasons Devo ended the show. Then in October of 2011 during a live performance at Con On The Cob Devo Spice surprised the audience by bringing the show back. That show, episode 229, was recorded live during that performance.
Each show is available as a free download from this web site. If you are podcast savvy you can listen using this RSS feed: http://feeds.feedburner.com/manicmondays